---
______
PEBBLE SERIES
PENDANT
---
DESIGNER:
LUKAS PEET
, 2019
The Pebble series celebrates the inexplicable and beautiful qualities of stones. Enhancing their simple yet sculptural form through translucency, two glass blown shapes come together entering a dialogue. The result is a seemingly bespoke pendant fixture—endlessly evolving in shape as it appears from different angles.
Always a combination of two glass blown forms each with three possibilities for finishes, the pebble allows for the individual to extract their personal collection.
CUT SHEET︎︎︎
---
PENDANT
LINEAR CANOPY
QUICK LINKS ︎
---
︎ INSTRUCTIONS — North America

︎ INSTRUCTIONS — World Market
︎ WORKBOOK

︎ IMAGE REQUEST

︎ 3D/REVIT/IES FILE REQUEST

︎ PURCHASE INQUIRY
---
MATERIALS
Glass
Aluminum

---
MANUFACTURED
Canada
---
ELECTRICAL
14W LED 300ma
90+ CRI
Dimming: Triac or 0–10
---
COLOUR TEMPERATURE
---
CANOPY
---
FINISHES
---
PEARL (PL)
---
CITRINE (CI)
---
SLATE (SL)
---
CUSTOM
We are happy to support and collaborate further customization of our luminaires for larger scale projects.
For further enquiries, please get in touch with us at
info@andlight.ca
---
CERTIFICATIONS
---
---
Both glass forms are connected to one another with a machined aluminum LED holder and heat sink; allowing the forms to sit close to one another in harmony—while housing the electrical connections and suspension system. One side is twice as bright as the other, allowing for the combination of large and small forms with consistent light output.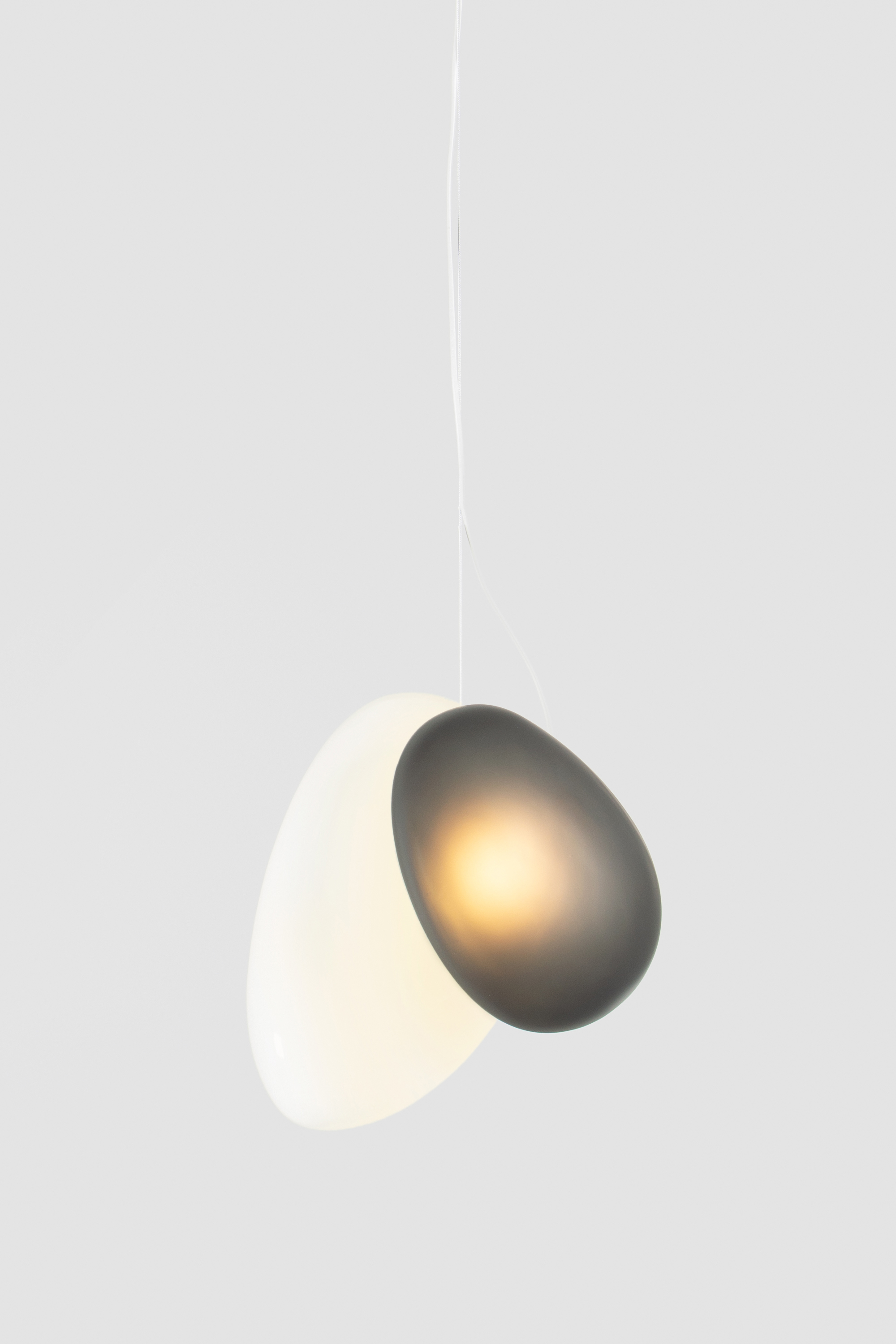 ---
"The inspiration for the series was the inherent beauty of river rocks—seemingly simple, the actual complexity of their form is the result of thousands of years of sculpting by nature. Glass blowing was an interesting process to utilize for this idea, as it enables for manipulation of the material. I wanted to allow these primordial shapes to glow—adding to their profoundness and giving them a soul."

—Lukas Peet